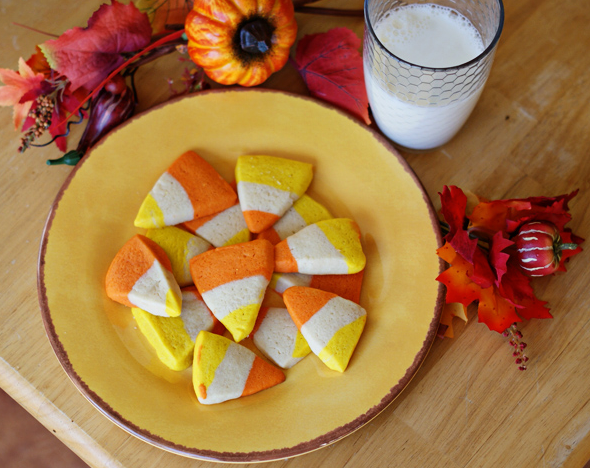 Candy Corn Sugar Cookies Recipe
I've decided this year that Halloween and Fall goodies are some of my favorite to make. There are so many fun and creative ideas out there, and I've got a bunch bookmarked. You know when you come across a recipe and it seems easy enough to make, looks delicious and is so super cute? That's 100% how I felt when I came across this recipe. Adorable and pretty simple, right? I decided to tackle these candy corn sugar cookies in the kitchen today and found that they actually were a little faster to prepare than regular sugar cookie dough. Probably because I didn't have to roll the dough out, and I also didn't frost them in the end. I used my favorite sugar cookie recipe, wilton coloring gel, and extra almond extract. I'm so excited with how they turned out, and I'm sure you can see why. The idea of creating sugar cookies with different colors kind of opens up a whole bunch of new possibilities. I'm already thinking how this layering and different color technique could work on Christmas sugar cookies as well. Another thing that I like about this recipe? They are cute enough that you don't have to frost them. Of course you could frost them, but it's not necessary.
For complete directions on how to make candy corn sugar cookies, visit our best bites, where I found the original recipe. As someone who doesn't really love candy corn, this is a great substitution. 😉 I sure did eat more than my fair share.