Progresso Recipe Starters
I really love to cook for my family. Now that we are in the swing of school and have a schedule down, I've been doing a lot of meal planning. We love to eat out, but have decided to cut down a lot to save money. I also like knowing what's going exactly into our meals, and cooking at home allows me to do that. At any given time, you will find a cans of Progresso soup in our cupboard. I really love the lentil and my boys love chicken noodle. Progresso has come out with a brand new soup of sorts that actually helps you jump start dinner! Progresso Recipe Starters come in five different flavors and can be used as starters for endless meals.
The starters flavors include:
Creamy Parmesan Basil
Creamy Roasted Garlic with Chicken Stock
Fire Roasted Tomato
Creamy Portabella Mushroom
Creamy Three Cheese
I used to cook a lot with cream based soup for casseroles and slow cooker dishes. When I realized how much sodium and fat were in a lot of these cream based soups, I tried to cut them out for the most part. I was excited to see that the Progresso Recipe Starters had quite a bit less sodium and fat than the other cream based soups that I have at home. I feel like these recipe starters are a better choice if you are looking to add flavor and creamy tastes to your cooking. Progresso has created 80 recipes using the new recipe starters. One that I tried was the Easy Weeknight Chicken Pot Pie. I revamped the recipe just a little bit as the original recipe called for frozen vegetables and I used fresh. I also wish I would have added more flour. The recipe calls for 1/4 cup flour, but I would up it to 1/3 cup flour. The sauce in the pot pie was more runny than I would have liked and I think adding more flour would help. Other than that, this recipe was absolutely fantastic. The whole family loved it and it is one that I will make again.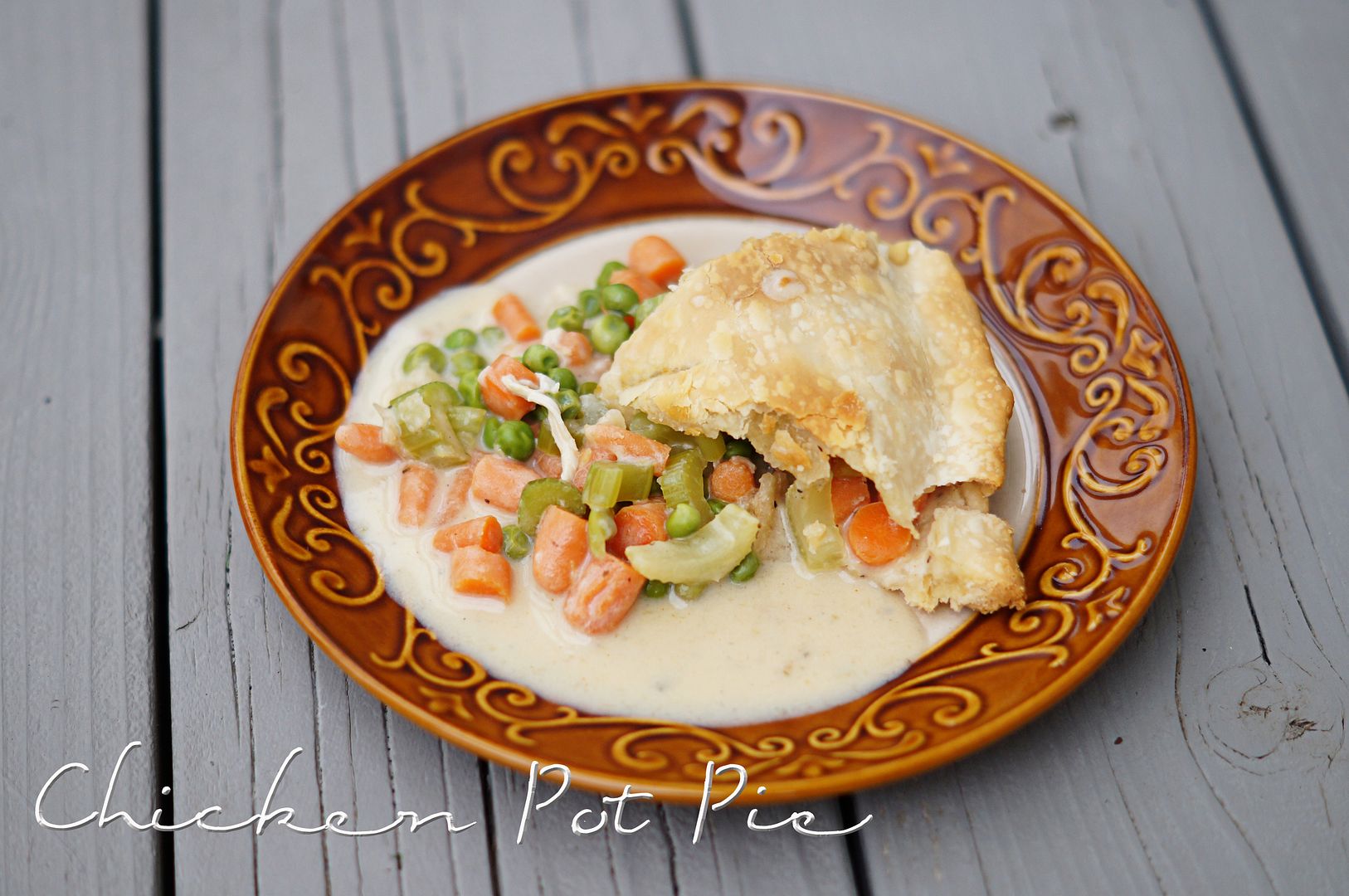 Author:
Progresso (Revamped by me!)
Prep time:
Cook time:
Total time:
A delicious and easy chicken pot pie that is done in an hour!
Ingredients
1 box Pillsbury® refrigerated pie crusts, softened as directed on box
1 can (18 oz) Progresso™ Recipe Starters™ creamy roasted garlic with chicken stock cooking sauce
⅓ cup all-purpose flour
½ teaspoon poultry seasoning
1 cup diced carrots
1 cup cut celery
1 cup frozen peas
1½ cups chopped deli rotisserie chicken
Instructions
Heat oven to 425°F. Make pie crusts as directed on box for Two-Crust Pie, using 9-inch glass pie plate.
In 2-quart saucepan, using wire whisk, mix together cooking sauce, flour, poultry seasoning, ½ teaspoon salt and ¼ teaspoon pepper until smooth.
Add vegetables; heat to boiling. Boil 2 minutes,stirring frequently. Stir in chicken. Spoon into crust-lined pie plate. Top with second crust; seal edge and flute. Cut slits in several places in top crust.
Bake 30 to 35 minutes or until crust is golden brown. After 15 minutes of baking, cover edge of crust with strips of foil to prevent excessive browning. Let stand 10 minutes before serving. Cut into wedges.
Progresso is offering a money saving Progresso Recipe Starters coupon.  All you have to do is print it out!
WIN IT!  One Babes and Kids Reader will win
Two cans of Progresso Recipe Starters
$10 Gift Card to purchase your recipe ingredients
Progresso Recipe Starters recipe book, including 5 recipes to get you started
Baking dish
Measuring Cups
Sauce Scraper
To enter, use the Rafflecopter form below.
Thank you to Progresso for providing me with samples, information and gift pack through MyBlogSpark. All opinions remain 100% my own.