Baking Lighter with C&H Sugar
Over the holidays, it seems like I eat a ridiculous amount of sugar. It's the one time of year where I really let go, but then I gain some weight and I regret all of the calories. Instead of eating extra calories that you regret, why not bake with a lighter sugar that has less calories? That way you can still eat some of your favorite treats with out the guilt.
C&H Light is an all natural sugar & stevia blend. It only has 5 calories per serving, and is twice as sweet as sugar. Since it has twice the sweetness, you use half as much when baking.  It comes in a convenient 2 lb pouch or a 40 count packet box. Over the last few weeks, I've used the C&H Light in multiple recipes. I made a killer Strawberry pie at Thanksgiving, some delicious sugar cookies and my favorite, a Raspberry Coconut Bars Recipe. It was the first time I'd made the Raspberry Coconut bars, and it's actually a receipt I found on the C&H website. It's an awesome recipe that I will definitely make again.
Light Raspberry Coconut Bars
Prep time:
Cook time:
Total time:
Sugar cookie bars topped with raspberry and coconut.
Ingredients
½ cup C&H® Light Sugar & Stevia Blend
½ cup (1 stick) butter, softened
4 oz. cream cheese, softened
2 eggs
2 teaspoons vanilla extract
2½ cups all-purpose flour
½ teaspoon baking powder
½ teaspoon salt
1½ cups raspberry jam
1 cup coconut, flaked
1 cup white chocolate chips
Instructions
Preheat oven to 375°F. In large bowl, with electric mixer, cream together sugar, butter, cream cheese, eggs and vanilla until just blended. Slowly add flour, baking powder and salt until fully combined.
Spread batter evenly onto ungreased 15x10x1-inch baking sheet. Bake 10 minutes. Remove from oven and spread jam over bars. Sprinkle with coconut; continue to bake for additional 5 minutes. Remove from oven; allow to cool 30 minutes.
Place white chocolate chips in microwave-safe bowl and heat in microwave on HIGH 1 minute or until melted. Using fork, drizzle melted white chocolate over cookies, then immediately cut into bars and allow to dry.
Notes
If you use normal granulated C&H Sugar, increase your sugar to 1 cup.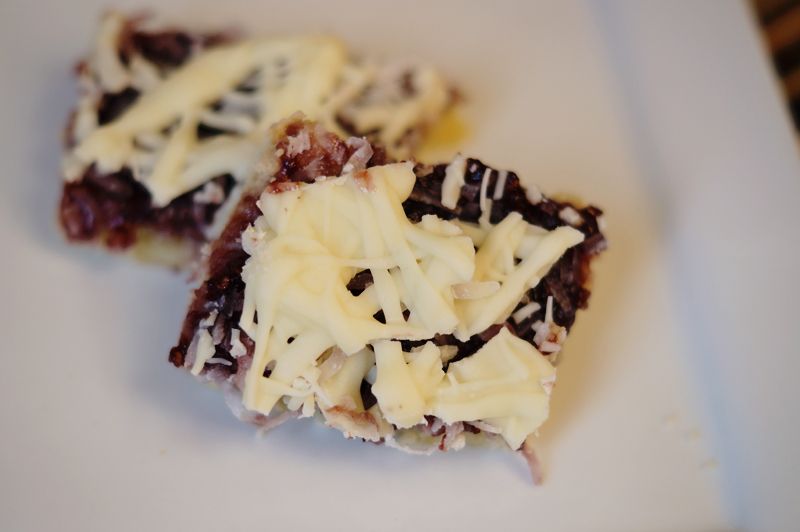 Win It
One Babes and Kids Reader will #WIN a $25 Visa Gift Card to purchase C&H Light Sugar and create your own recipe! To enter, use the Rafflecopter form below.