We received one of the Spray-N-Splash Inflatable Water Parks to facilitate this review. All opinions remain 100% my own.
Blast Zone Spray-N-Splash 2
When it comes to Blast Zone.com, I know that they carry fun and quality products that are built to last. Our last Blast Zone product was the Shark Slide and after 2 summers of fun, it is still going strong. We have used it too many times to count and it is still in great condition. When we had the chance to review the Spray-N-Splash 2, I knew it would be a fun addition to our other slide.
One thing that I love about the Spray-N-Splash 2 is the ease of setup. What you see below is what is included. There aren't 500 pieces to try to sort through, and it's very straight forward. It comes with the slide, carrying case, blower, stakes, instructions, dvd and tubing to use with water. We had ours out of the box and inflated within 10 minutes. You simply unroll the slide, attach the air tub to the blower, stake it down and blow it up. It takes less than 2 minutes for the slide to be entirely blown up.
I like that you can use this slide wet or dry. We first got the slide when it was a bit chilly out. My boys were disappointed, and we set it up anyways and let them play on it dry. They had such a fun time climbing up and bouncing down the slide. You can also purchase balls to add to the bottom of the slide for more fun. They played on it for well over 2 hours that way the first day that we got it.
Once it warmed up, we fully took advantage of playing on it with the water going. When you want to use it for water play, there is a sprayer that goes up over the top of the arch of the slide. It's easy to put up and keeps the slide wet which makes it fun to slide down. On the instructions, it says to have only one person on the slide at once. It's definitely important to enforce this as it throws the weight of the slide off if more than one child is at the top trying to go down. I like that the pool wraps around the entire portion of the slide so you have water all around. You don't have to get out to go back to the climbing wall again, you can stay inside. The guards on the sides of the slide are nice to have, it keeps kids from bouncing out.
This slide can accomodate up to 4 kids, although I mentioned that they need to be watched so they don't try to slide at the same time. It's a really nice big size at 17′ long, 8′ wide and 8′ long. There is a small indent on the side of the pool that makes it so that the pool doesn't get too full and also allows easy entry for kids.
The recommended ages are 36 months to 10 years. At 5 and 7, this slide is perfect for my kids. I think the ages that they suggest are pretty appropriate. As an adult, I got in on some of the sliding action too. I am about 150 lbs and it was actually pretty fun and supported me too. So although the recommended ages are up to 10, I don't see why a parent or two can't get involved with their kids.
Being that I already own a Blast Zone Bounce House, I can say that these slides are very very durable. We keep our other slide stored in a storage bin outside on our patio and it has been used so SO much over the last few years. These slides are fun for parties or everyday use.
After you've used this slide with water, it does tend to take a few hours to dry out. If you don't allow it to dry out completely, it's heavy and hard to roll up. It's also important to let it dry out because it comes with a handy carrying case that you can store it in. You do have to roll it up pretty tightly to get it into the storage case.
The water park slide comes with instructions and a DVD which were very helpful and nice to have.
Overall, I would definitely recommend this slide for dry or wet play. It's durable, fun, and will give you hours and hours of outdoor playtime.  For a video overview of how to blow it up and the kids playing, watch our video below.
You can purchase the Blast Zone Spray-N-Splash 2 from Blast Zone for $349.99.  They also have a great selection of other Bounce Houses and Commercial Inflatables.
I'm so excited to be able to give away a Spray-N-Splash to one lucky reader. In addition, Whitney from It's Gravy Baby is going to be giving away a Hydro Rush on her blog. You must enter here and on her blog to be eligible and you can only win 1. The giveaway dates will be the same.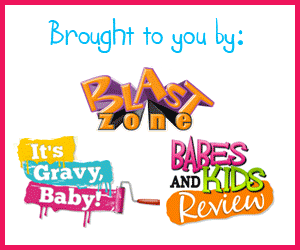 To enter, use the Rafflecopter form below! Good luck!